B
Brown, Tommy
Instruments: Vocals
Date of Birth:
Place of Birth: Birmingham, Alabama
Tommy Brown joined The Hues Corporation in 1974 replacing Fleming Williams. The disco-soul group originated in Los Angeles in 1969, taking it's name from Howard Hughes and changing the spelling to avoid legal problems. The members included female vocalist, H. Ann Kelly, (born April 24, 1947 in Fairchild, Alabama) and male members, St. Clair Lee and Karl Russell.
After working the lounge circuit, they signed with RCA in 1973 and had a minor pop hit with the title track of their debut album, Freedom for the Stallion. Their big success came in late 1974, when member Tommy Brown sang lead on "Rock the Boat" (#1, 1974), which sold over two million copies. Brown left soon after for a solo career.
Source: Alabama Music Hall of Fame
---
Q - Did Tommy Brown sing lead on "Rock The Boat"?
A - No. It was Flemming Williams. He came into the group after our other guy, who had been with us for a couple of years, decided he wanted to go solo. So Flemming came into the group when we had "Rock The Boat". Flemming Williams left the group because he decided he wanted to be Flemming Williams and The Hues Corporation. We told him to blow it out your ear. No way. As a matter of fact, he just passed away. Tommy lasted with us through the first tour. You're getting information that a lot of people don't know. Tommy wasn't a bad singer. He was a really nice person, but he didn't know how to handle the media and he didn't know how to handle women. So, Wally decided to bring Flemming back into the group. He lasted maybe two, three years with us...and we had to get rid of him.
Source: http://www.classicbands.com/HuesCorporationInterview.html
---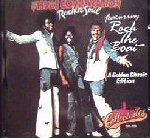 Rock the boat by Hues Corporation(RCA, 1974)
- On CD Hues Corporation Rock the Boat Golden Classic 12" version (BMG, 1990)
Formed in 1969 in Los Angeles, California, USA. Their name was taken as a pun on the Howard Hughes billion-dollar corporation. They had been performing for five years when their biggest hit, 'Rock The Boat', arrived. The vocal trio consisted of Hubert Ann Kelly (b. 24 April 1947, Fairchild, Alabama, USA; soprano), St. Clair Lee (b. Bernard St. Clair Lee Calhoun Henderson, 24 April 1944, San Francisco, California, USA; baritone) and Fleming Williams (b. Flint, Michigan, USA; tenor).  Their first record, 'Goodfootin'', was recorded for Liberty Records in 1970 but failed to hit.
They signed with RCA Records in 1973 and made the charts with a song called 'Freedom For The Stallion'. 'Rock The Boat', originally a forgotten album track, was released in 1974 as the next single and reached number 1 in the US pop charts and number 6 in the UK, becoming one of the first significant disco hits. Tommy  Brown (b. Birmingham, Alabama, USA) replaced Williams after the single hit and their only other chart success came later that same year with 'Rockin' Soul', which peaked at number 18 in the  US chart and reached the Top 30 in the UK. The group continued to record into the late 70s, but they were unable to repeat their earlier success. However, in 1983 'Rock The Boat' made another chart appearance when Forrest took the single to the UK Top 5 position.