C
Cooper, Dick
Dick Cooper
Rock, R&B Administrative Eddie Hinton, Barry Beckett
Born: Jan. 26. 1946 Birmingham, AL
Lived in Sheffield, AL
Source: Alabama Music Hall of Fame
---
On and Off the Road with Dick Cooper
by Mitch Lopate 2000
Dick Cooper wears many hats: music museum curator, band road manager, free-lance writer and photographer, motorcycle racer, traveler, martial arts disciple and all-around wellspring of rock-solid advice and counsel. He's been there with Lynryd Skynryd, especially at the time of the tragic crash and afterward for the regrouping and healing process of the surviving members, the legendary recording sessions with Jerry Wexler at Muscle Shoals and in FAME Studios with Rick Hall, the man who gave Duane Allman his first break, and Dick's a man who served as keeper of all things sacred for the Alabama Music Hall of Fame Museum. If you've ever read anything about music in popular magazines, then you've surely seen his by-line or noticed a Dick Cooper photo.
I had the great fortune to meet Dick during my Road Trip this past Memorial Day weekend, courtesy of Johnny Wyker, and we traveled together from Muscle Shoals to Bobby Whitlock's farm/studio. The opportunity to learn from such a well-rounded man was never better: I plied Dick with questions and tried to soak up as much knowledge as possible. His storytelling is as clear and well-spoken as any I've ever hoped to collect. I want to acknowledge that Dick was the craftsman for all these wonderous stories---I just asked the questions and he provided all the information directly to me.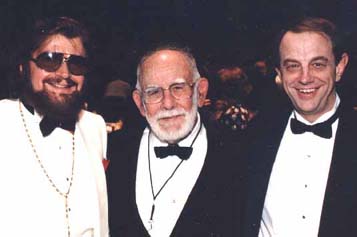 Sam Phillips, Jerry Wexler and Dick Cooper.
You had a very clear definition of the working differences between the Muscle Shoals and Fame studios÷would you elaborate on them, please? You also specified some of the artists and their impact/contributions to the studios÷would you outline their work, please, and how each studio brought out different material and styles?

When I first began writing about music in the Shoals, I had a weekly column in the Florence Times-Tri-Cities Daily. At the time, I didn't know a great deal about the behind- the-scenes working of a recording studio, and concentrated on the people involved: both the artists and studio personnel like engineer Jerry Masters. To me, the "news" was the latest artist to hit town, and I would start each week's column with who was starting work that week. 

While this seemed like the obvious way to handle the column, it didn't take into account the differences between the two principle studios, FAME and Muscle Shoals Sound. At that time, Muscle Shoals Sound was primarily a tracking facility that would see a different producer come in each week with a new artist. They would record the tracks, and then in some cases go to other studios to overdub and mix. 

FAME, on the other hand, was a workshop for record producer Rick Hall. Hall was one of the pioneers of Muscle Shoals music, and was so good at his job that he was named "Producer of the Year" the year before my arrival. 

I was oblivious to the fact that when Rick recorded an act, he did it from start to finish. During pre-production, he would meet with the artist, review the material, and select the songs to be recorded. They would then go into the studio and record the tracks and pilot vocals; when they were finished, the tracks would be "sweetened," the vocals recorded and then the album would be mixed, mastered, and turned over to the record label to be pressed and distributed. The overall project would take four to six weeks. 

Muscle Shoals Sound would have four or five producers with different acts through the studio in the same length of time. Brad Shapiro would bring in Millie Jackson; they would be followed by William Bell, who might be producing The Staple Singers, then Ron Hafkine would bring in Dr. Hook, and they would be followed by Jerry Wexler producing Willie Nelson. That time sequence isn't correct, but that is an example of how things were done. 

There were also six or seven other studios in town, and so Rick felt he wasn't getting the respect he deserved when he would have Andy Williams here for five or six weeks, and get the top of the column only once during that time. After a few months, I expanded the column to Billboard magazine, and Rick really got pissed. He called the Billboard editor and told him to fire me, because I didn't know what I was doing. So I was fired. 

Fortunately, over the years, Rick got over being mad at me, and eventually was the person on the Alabama Music Hall of Fame board of directors who recommended that I be hired as the assistant to Executive Director David Johnson. I eventually became the curator at the Hall of Fame and created the bulk of the exhibits in the facility. 

Muscle Shoals made a name for itself in the 60s, cutting R&B hits for Aretha Franklin ("Never Loved A Man (The Way That I Loved You"), ("Do Right Woman, Do Right Man"), Percy Sledge ("When A Man Loves A Woman"), Arthur Alexander ("You Better Move On", "Anna"), Wilson Pickett ("Mustang Sally", "Land of 1,000 Dances"), Etta James ("Tell Mama"), James and Bobby Purify ("I'm Your Puppet"), and many others. The music was being made with black vocalists, and white musicians, with a few exceptions. 

When Martin Luther King was assassinated, much of that changed. By the time I arrived in the Shoals in the early Î70s, FAME had begun focusing on pop acts like the Osmonds, and Andy Williams, while the newly-formed Muscle Shoals Sound worked with Cher, R.B. Greaves, and Boz Scaggs. There was a good bit of competition between the two studios. Muscle Shoals Sound had the most traffic, but Rick was producing the acts that came through FAME, and the guys at MSS aspired to produce as well. David Hood had some success in Europe with Smith, Perkins, Smith, a group consisting of Wayne Perkins and Tim and Steve Smith. The band moved to England where Perkins ended up playing on Bob Marley's first album. Jimmy Johnson produced an overlooked gem by Roy Lee Johnson and the Villagers, and Roger Hawkins and Barry Beckett teamed up to produce "One More River To Cross" on Canned Heat. 

The diversity of the artists coming through Muscle Shoals was astounding. The same 25 or 30 musicians were playing for Herbie Mann, Aretha Franklin, The Osmonds, Joe Cocker, Mac Davis, Ronnie Hawkins, Paul Simon, Rod Stewart, Paul Anka, Leon Russell, Andy Williams, Bobby Womack, The Staple Singers and Linda Ronstadt. 

Despite all the changes in personnel over the years the number of studio musicians that have made their living in Muscle Shoals is probably still under 100. And there was an effort not to develop a distinctive style. The effort was to become the band of the artist on the studio floor at that time. 

The strong points of Muscle Shoals were the willingness on the part of the musicians to work, their improvisational talents, and arrangers like Barry Beckett and Clayton Ivey. The musicians built their reputation on being willing to take whatever time was necessary to cut a hit, while in Nashville, the three-hour session was sacred. Muscle Shoals sessions would run late into the night if necessary. 

If Muscle Shoals had a style, it was minimalism. Less is always enough. Let the vocalist carry the song; after all, it's his/her album. 

You were the road manager for Lynryd Skynryd for a while÷and were there when the news came about the plane crash that took the lives of three members, including Ronnie Van Zant. What do you remember about that day, the early days of the band, and Ronnie? What was it like to do what you did for them in your capacity as decision maker and planner?Where might they have gone as a band 

I was actually the road manager for the opening act both times I was on the road with Skynyrd. In 1977, a Muscle Shoals group, LeBlanc-Carr (led by Pete Carr and Lenny LeBlanc) was the opening act on the Skynyrd "Tour of the Survivors." This was at the time of the group's Street Survivors album. 

We opened the warm-up date in Statesboro, GA., and the dates in Miami, St. Petersburg, and Lakeland. The night of Oct. 19th, we played a gig at the auditorium in Daytona Beach, FL, Pete and Lenny's hometown, while Skynyrd flew to South Carolina for a gig. On the 20th, we were driving to Baton Rogue, LA, to rejoin the tour when the Skynyrd plane crashed near McCombs, MS. 
Pete and the Eddie Struzick, the sound engineer, were writing a song in the car during the trip. We had a tape recorder rolling, and were totally unaware of the plane crash until we arrived in Baton Rogue. I was checking into the hotel, and the band was asleep in the car when the clerk in the motel said, "Oh, I guess you know your show has been canceled." I said, "No. Why?" And the clerk said, "Why because of the plane crash, of course." 

That was a horrible night, we couldn't find out anything about Skynyrd. Many of our friends were in a near state of panic, because they weren't sure if any of us were on the plane. We had the same management company as Skynyrd, and we were suddenly abandoned, because everyone was focused on them. It was chaos. 

In 1988, things were a bit different. I was still the road manager for the opening act, Rossington, but since Gary was the lead guitarist in both Rossington and Skynyrd, and his wife Dale was the lead singer in Rossington and a Honkette, the background vocal group for Skynyrd. I doubled up and helped with some of the Skynyrd chores. 

I got the fun stuff, like herding the luggage through airports, helping with wardrobe, etc. You should have seen the look on the face of the skycap in Albuquerque, NM, when I asked for some help with some luggage, then led him to a carrousel overflowing with 155 bags for our group. 

It was really great getting to work a show like that. We played all the major cities, and were in almost all the continental states. I don't think I hit Vermont that year, and some of the other states we just drove through, but it was really great to see how much this country had changed in 10 years. 

After the Skynyrd crash, Leblanc-Carr had continued to work with groups like The J. Geils Band, Journey, England Dan and John Ford Coley, Robert Palmer, Sammy Hagar. NRBQ, and Taj Mahal . 

We did a nationwide tour in rental cars, and really got to see the country up close. When you were in Iowa, people had Iowa accents, and when you were in Cincinnati they had Ohio accents. When I went back in 1988, there weren't as many regional accents any longer. Everyone talked like Dan Rather. 

I met the guys in Skynyrd April 22, 1974. They played a concert at the Florence-Lauderdale coliseum, headlining a show that included the Outlaws and Jimmy Buffett. 

Buffett had been added to the show as an upcoming act. He and Roger Bartlett drove down from Nashville for $75 and played between the two bands during a set change. Buffett was playing a Martin guitar that he had glued a plastic hula dancer to the side. When he strummed the guitar, she would sway back and forth. 

I thought he was great, but he got booed off stage. Everyone was ready for Skynyrd. I had met the guys that afternoon behind the coliseum. Ronnie was standing at the door to the van, directing traffic, and I was invited to join in the fun and frolic inside, but declined. 

I later interviewed Ronnie at Muscle Shoals Sound, when he was there working on material that went into "Street Survivors." And although Ronnie was always gracious and polite, I can't say we were more than acquaintances. 

Gary and I got along better, and although Allen and I had our differences, he ordered me to catch a spider for him, and my refusal almost led to a fight, but we got along o.k. 

I got along well with Ed King on his good days, and would speak to him even at his worst, although there were times he wouldn't speak back. His brother Jim, on the other hand, was a great guy, and I have often wondered what has happened to him. 

I was close to some of the Rossington people before we went on tour. I had known Jimmy and Ronnie Eades for years. Jimmy was the head for Muscle Shoals Sound when I went to work there as Barry Beckett's assistant, and I had worked for Ronnie Eades and the Muscle Shoals Horns as a publicists during the mid-Î70s when they had out their first album, and later when they were touring with Elton John. 

I had also known Jay Johnson since he was 10 years old, and had known drummer Mitch Rigel and Stage Manager Tim Facok for a couple of years. I still live in Facok's house, even though he has moved to Athens, GA to run sound at Tasty World. Tim Lindsey was also a member of Rossington, and he and I shared a room for a part of the tour.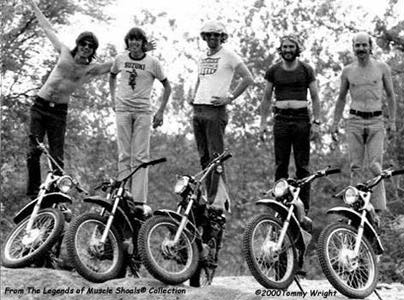 BORN TO BE WILD: Pictured are, left to right, Johnny Wyker, Bill Tucker, Dick Cooper, Kerry Taylor and Jerry Masters. Tucker was Wyker's paper boy, Taylor was Wyker's next door neighbor, and Jerry Masters was the audio engineer at MSS. (Tommy Wright Photo)

You've written for many prestigious magazines, including Rolling Stone and Billboard. What stands out in your mind that you would want to tell a newcomer to the journalism industry, or as an instructor at the university, what did you say to students? 

That's easy. Don't take no for an answer. I've been very fortunate when it comes to my writing and my photography. A lot of my early music writing was terrible. I really didn't know what was going on from an insider's perspective, and I wrote as a fan. That was one of the reasons Rick Hall told Billboard to fire me. He was right, I didn't understand what was going on, but I learned.
The second thing I would tell a young writer is never be too proud to say, "I don't know what you mean, please explain it to me. 

At the grand opening for the Alabama Music Hall of Fame, Russell Gulley, who had been with the group Jackson Highway, brought Charlie Louvin to meet me. Charlie, said, "You don't know nothing about country music." I told him, "You are right, but if you will sit down and tell me your story, I'll know a lot more. It took Charlie off guard, and we became friends. He did sit down and talk to me, then gave me Ira's mandolin and one of the most famous Louvin Brothers costumes for the Hall of Fame exhibit. 

As my Louvin education proceeded, I became a hardcore fan. Although country isn't one of my favorite styles of music, you can't listen to songs like "Cash on the Barrel Head," "When I Stop Dreaming," and their live version of "Hole in the Bottom of the Sea" without becoming fans. A few years later, the Louvin Brothers were inducted into the Hall of Fame. 

You were mentioned in Jerry Wexler's autobiography - you obviously were very important to this man. What did you learn from him? 

Jerry Wexler has had the greatest influence on my life, despite all the things that Jimmy Johnson, Barry Beckett, Pete Carr, Lenny LeBlanc, Johnny Wyker, David Hood and Roger Hawkins have done for me. Wexler is that beacon that you know is the way. He has been that to those I mentioned as well. 

He is so much larger than life, that every day is a new lesson. I had the pleasure of working with him on two Dylan albums, a Dire Straits album, a Mavis Staples album, a McGuinn-Hillman album, a Carlos Santana album and an Etta James album. The first six were as an assistant to his co-producer Barry Beckett, and I was the project manager on the Grammy- nominated Etta James album, The Right Time. 

Wex had a way of hitting that nerve. Whether it was just the right amount of track when you were mixing, or knowing when to stop messing with a song, he had the touch. Before I knew him well, I had asked if he could help get me tickets for a Clapton show in Birmingham. I was working with the Times-Daily at the time, and had interviewed him when he was in town producing a Barry Goldberg album, which he had co-produced with Bob Dylan. 

He had pulled the strings, and I had ended up with great seats, free. The next time he was in town, I went by to see him, and took him a small gift to show my appreciation. I handed him the gift, and he asked, "What is this?" I explained it was a "token of my appreciation." He tossed it backed to me and asked, "What could you buy me that I would want?" He then softened the blow a bit by saying, "Go find somebody that needs your help and give it to them. You can never really help those that help you." 

I've tried to live up to that. 

He also told me the secret to recording hit records. He said, "It's easy, put a hit act on the floor."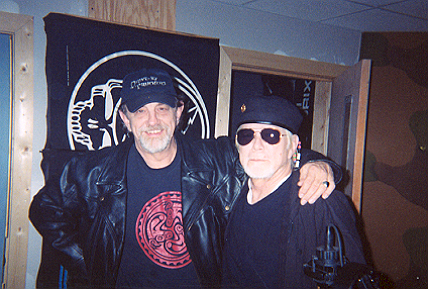 Cooper and Wyker at Mill Kids Studio during Buffalo's Something Heavy Sessions. (Photo by Michael Buffalo Smith)

Photography versus journalism - is it more fun, or do you miss the writing?

I don't really miss either, because I do a lot of both. I began both at the age of eight. My father was a commercial photographer, and I started helping him when I was eight. I also started an elementary school newspaper that year.

I have been very fortunate with both. I'm not a good photographer, I'm an opportunistic photographer, and I've learned to take pictures through trial and error•and I have been heavy on the error part. However, the Smithsonian used one of my photos in its 150th Anniversary exhibit. The same photograph, of Wexler and Willie Nelson, is in and on the dust cover of Wexler's biography. It will also be in an academic book on Southern culture to be published next year by the University of Chicago Press. 

Some of my other photographs have appeared in Rolling Stone, Mojo, Zoo World, and many other music publications, and on MTV news. I've had pictures in a Dylan CD booklet, on record covers for Delbert McClinton, Lenny LeBlanc, and in Etta James's biography. I still write some articles, and will have some work in Gritz in the near future. 
(authors note: Can't wait!!) 

You've had a passion for motorcycles; part of your connection to John D. Wyker is your days of riding up and down throughout Alabama. Any good stories you can share about those days - (we know there are plenty!) 

Well there was the day I ran over Johnny about six times. He was learning to wheelie his 185 Suzuki dirt bike, and he kept twisting that throttle and jerking the front wheel off the ground. The only trouble was he didn't know when to stop•does this seem like a trend? Anyway, he would hit the pavement, and I would ride over him. He finally realized wheelies weren't for him. 

I'm wondering why he needed five more times but then, he chased after us with a pickup truck and a 35-foot camper-trailer.all the way from Decatur, AL to Whitlock's house in Mississippi. Maybe he wanted to return the gesture? 

Our friendship really developed around bikes. You can't rip and roar like we did without doing a little bonding at the same time. It all started one day when I went by to see Johnny about some information for a music column I was writing for the Times-Daily. While we were standing outside his apartment, Bill Tucker, who has since become a drummer, rode by throwing the afternoon paper. Tucker had a 185 Suzuki, and he could wheelie halfway down the block. It looked like great fun. So the next day, Wyker had a Suzuki, then I traded my Yamaha street bike in for a 350 Yamaha dirt bike, and the next thing you know, the whole neighborhood is ripping and roaring. 

We started out at an abandoned industrial area between the river and Wyker's apartment. That was great for a while, but then we discovered Bruton Branch Recreation Area just north in Tennessee. I was there all but six weekends in 1976, and had been there most of the weekends in 1975. The area was great. There were all these power lines coming out of Pickwick Dam carrying power into Alabama and Tennessee. There were waterfalls, steep inclines, rock, dirt, and all that fun stuff. I kept breaking stuff off my bike until at the end, when it was stolen--it no longer had any lights, brakes, or anything else that wasn't absolutely necessary. 

Most of our riding was "unstructured," but we did occasionally participate in organized events. At a Hare Scramble on LaGrange Mountain near Muscle Shoals, I took second place in my class, beating out sound engineer Jerry Masters by less than a minute. That was even though I had fallen 15 times during the race. It seems I was running faster than the bike could go. 

We'll have to contact Jerry and ask about his style of riding.

I had a couple of spectacular crashes along the way. Once, attempting to climb "The Big Hill" at Bruton Branch, I had the motorcycle run out from under me. I slipped off the back of the bike as I got near the top. I was standing on a small ledge a hundred or so feet up the hill with the motorcycle stretched out overhead with the wheels pointed away from the hill. 

Just as I realized that I was in trouble, my toes slipped off the ledge, and the motorcycle and I locked in a wild tumble to the bottom. I'm not sure who rode whom on the way down. I just know there were no injuries that washing in beer and wrapping in a bandana couldn't cure. At that time I was married to a nurse, and her skills patched me up a couple of times. 

Those were great times. We would go to Bruton, and camp out in a dirt field. We would bang around the woods, and with any luck come home with nothing broken. In general, we had more fun than the law allowed, but since we were in the middle of nowhere, it didn't matter. 

Once during the Winter, it was snowing, and there were only about six of us there. The parking area at Bruton was a large flat muddy area on the power line between two hills. One was "The Big Hill" and the other a terraced affair that the average rider could negotiate. We circled up the vans and built a huge bonfire in the center. There was an area nearby of clear cut, and there was plenty of limbs and tree tops for wood. 

The next morning, I got up and went for more wood. When I came back I saw one of the most beautiful sites I've ever seen: it was still snowing, and there was this incredible blue light illuminating the area. The muddy field was covered in about six inches of powder. At a distance, the circle of vans was silhouetted against the bonfire. The heat from the fire was rising, and the snow was being diverted to the outside of the circle. It looked as if there were a vale over the circle. It was beautiful. 

We went riding later, and it was hilarious--it was so slippery, no one could ride more than a few hundred feet without falling down. It was so cold, B.J. Malone sat a beer down to adjust his chain, and when he picked it up there was a sheet of ice over the top. But in the circle it was warm enough to walk around in a tee-shirt. 

Would you share your memories of a great musician and legacy of Muscle Shoals? I'm speaking of Eddie Hinton, and the efforts of those who are part of the Mighty Field of Vision and their charitable aspects. 

I hadn't ever considered that there was a difference between the purpose of most records labels and MFV. The label, tribe, whatever it has become, was created to generate cash flow. That cash flow was necessary to keep Eddie Hinton alive and functioning. 

My first reaction, when Johnny got me involved after finding Eddie homeless, was to form a publishing company to publish Eddie's songs. We couldn't get anyone to record the songs, but the people we played the songs to kept trying to buy the tape, so it finally dawned on us that we had a record. 

It's a smoking machine - Eddie's voice just grabbed me when I slid the tape (Letters from Mississippi) into the car stereo, and the horns on "Everyone Meets Mr. Blue" are the best thing!! We only had six songs, but Jimmy Johnson had produced six songs on Eddie a few years earlier. He had been unable to get them released, so he donated them to the cause, and we had enough material for an album. 

No label in this country was interested. But in Europe, many of the facets of Eddie's personality that led to his downfall made him intriguing. That, coupled with the European propensity for minutia, created a viable market for Eddie's songs. Unlike most Americans, fans in Europe knew who Eddie was, and knew the songs he had written and on those he had played. 

I had known Kalle Oldby for about seven or eight years. Kalle, a producer with Swedish National Radio had initially contacted Muscle Shoals Sound while a journalist with LARM, a Swedish music magazine, and since I handled matters of that sort, it landed on my desk. Kalle was unbelievably knowledgeable about Muscle Shoals music, and his questions caused me to look into areas I hadn't considered examining. We became close friends. 

When we were ready to find a record deal for Eddie, I turned to him for a short list of potential European record companies. Kalle eventually wrote the liner notes for Letters From Mississippi. 

Kalle is still one of the biggest promoters of Muscle Shoals music in Europe. He comes to the Shoals every year, and even used MSS to record the music bed for one of his programs. 

The Mighty Field of Vision is an ad-lib vocal from one of Eddie's songs, and I had nothing to do with its selection as the name of the company. On the other hand, it fits perfectly into my personal philosophy. I have studied Kung Fu for a number of years, and you are taught that your Chi, or life force, follows your vision or focus. I had no problem with following Eddie's vision. Here was a man who was relentless in the pursuit of happiness in the face of hopelessness. There were times when I didn't agree with what constituted happiness. I don't like 190 proof grain alcohol, but there was no denying that Eddie felt happiness was achievable under any circumstances. 

That has been a wonderful lesson. I recently was hit head-on by a woman who had no license, no job, and no insurance, and now I have no car. But in retrospect, Eddie's most uplifting songs were done when he had much less. If you live your life right, you will go where your vision is focused. That is the lesson of Eddie Hinton. The focus of his Vision continues today, five years after his death. 

As far as the charitable aspects are concerned, I refer back to Wexler's comments about never being able to pay back the people that have helped you. So I worked with Eddie, and I helped organize events like the Donnie Fritts concert we held in January. 

That's a tremendous tribute - you certainly did him honors. One last question: what's the most unusual thing you remember about the studio days? 

You know, there were always weird animals roaming the halls. What about the copperhead Wyker killed in the tape vault, or the baby rattler that was killed in the men's bathroom in the back of the building--and then there was the woman that showed up from Boston during the first Dylan session• 

It could only happen in Muscle Shoals! Thanks, Dick, you're a great storyteller!
Source: http://www.swampland.com/articles/view/title:dick_cooper
---