G
Gore, Tony
Tony Gore
Gospel Vocals Majesty
Born: Birmingham, AL
Source: Alabama Music Hall of Fame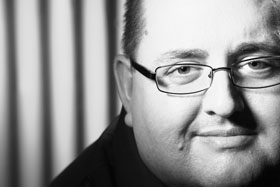 Personal Website: www.tonygore.com
Listen: http://www.amazon.com/s?ie=UTF8&keywords=tony%20gore&rh=n%3A5174%2Ck%3Atony%20gore&page=1
Tony Gore – The Hits
Producer: Tony Gore/Jimmy Tarbutton
Label: Promised Land Music
It's been two years since Tony released his first solo CD, "Can't Stop." While "The Hits" and "Back to my Roots" aren't necessarily what I would call brand new recordings, they are the newest releases from Tony Gore and they feature Tony on many of the songs he is known for, as well as a few time honored hymns and classics. While these two recordings are both sold separately, I am reviewing them together since they were released at the same time and cover very similar ground.
"The Hits" feature former Gore hits and favorites and include the songs, "MEANWHILE IN THE GARDEN", "I BELIEVE IT ALL", "BLESSED BE THE NAME OF THE LORD" (a personal favorite of mine), "TEARDROPS", "I'M BOUND FOR THE LAND OF CANAAN", "THE PRODIGAL", "FINAL CHAPTER", "COVERED IN RED", "WATCH AND SEE" and "I'LL PUT ON A CROWN". With the exception of two songs, "I DON'T KNOW HOW THEY MAKE IT" and "LIKE NEVER BEFORE" (which are pulled from their original recordings), all the songs feature the original tracks, but with added background vocals and fresh vocals from Tony Gore.
The second release titled, "Back to my Roots" feature mostly songs from Tony Gore & Majesty's recordings, "The Story, Volume 1 &2". Again, like "The Hits", it features the original tracks with added background vocals and updated vocals by Tony. Songs include, "I FEEL LIKE TRAVELING ON", "I LOVE TO TELL THE STORY", "WON'T IT BE WONDERFUL THERE", "IN THE GARDEN", "WHERE MILK AND HONEY FLOWS" (my little girl loves this song) , "THE GLORYLAND WAY " and "HEAVEN'S JUBILEE".
The highlight for me though on the "Roots" recording is that the final four songs showcase Tony at the piano as he plays and sings "THANK YOU LORD FOR YOUR BLESSINGS ON ME", "AMAZING GRACE", "OH, HOW I LOVE JESUS" and "BETTER FARTHER ON". These four songs are what makes this recording memorable for me. It's worth the price just for those four songs. The cover picture alone is worth the price…Tony sitting on a rock by a creek with his shoes off makes me think of the classic children's musical, "Down By The Creekbank" that Dottie Rambo released in 1978.
There isn't much room for originality on these two recordings, but we do get fresh new vocals on these previously recorded songs. Fans of Tony Gore will definitely have to get these, and they are worth getting, because you get all the best of Tony Gore on two CDs.
Source: http://sogospelnews.com/index/content/articles/4197/
"The man with a tear in his voice" is set to become "the man with a skillet in his hand." Tony Gore, an icon in Southern Gospel music for 25 years announces the opening of TONY GORE'S SMOKY MOUNTAIN BBQ AND GRILL. The restaurant is located in Sevierville, TN, on the famous HWY 66 that boasts over 2 million people every year traveling to Sevierville, Pigeon Forge and Gatlinburg, TN.
The opening of the restaurant doesn't mean that Tony is coming completely off the road. He will continue to do select solo dates as well as the Tony Gore and Majesty dates. Also, he will continue promoting concerts like the annual New Year's Eve event in Charleston, WV, and continue serving as a board member of Abraham Productions who offer great events each year as Singing In The Sun, Panama Praise, and The Gatlinburg Gathering.
"We are set to open later this week," Tony says, "And I would like to invite all my Gospel Music friends to remember me when they visit the Great Smoky Mountains. Come by and eat with me; I promise to feed them good!"
Tony is relocating to the Sevierville area and will be singing at the restaurant from time to time, and plans to have special guests in as well. Contact information for the restaurant:
Tony Gore's Smoky Mountain BBQ and Grill
1818 Winfield Dunn Parkway
Sevierville, TN 37876
(865) 429-7771
To contact Tony:
Tony Gore Enterprises
PO Box 6099
Sevierville, TN 37864
(205) 755-1123
Source: http://www.sogospel.com/article.php?id=764_0_1_0_C