G
Guin, Brad
Brad Guin
R&B Saxophone Bobby Blue Bland, Muscle Shoals Soul Revue
Born: Oct. 5, 1974 Moores Bridge, AL
Source: Alabama Music Hall of Fame
Brad Guin is the Tenor Sax player for DejaBlue.  Brad has a long and storied history of performance with many great musical icons of our time.  Brad has performed with Greg Allman, Bobby "Blue" Bland, BB King, The Temptations, The Four Tops, The Ojays, Percy Sledge, Little Milton, Eddie Floyd, T.Graham Brown, Jimmy Hall, Johnny Taylor and Dr. Hook.
Brad's hot licks and tremendous tenor sounds adds a lot to the blue's horn section.  Brad also sings backup and contributes to the arrangements of the band.
Source: http://www.dejablueonline.com/theband.htm
Brad Guin - Advanced Band Leader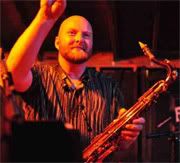 Brad Guin is a phenomenal saxophone player his lyrical and stylistic tenor sax playing has led Brad to some of the most acclaimed gigs a young horn player could hope for. He specializes in the Muscle Shoals and Memphis sound and has worked with some of the most influential artist of our time such as Eddie Floyd, Bobby Blue Bland, Little Milton, Clarence Carter, Johnny Taylor, B.B. King, Jimmy Hall, Percy Sledge, Gregg Allman, Bonnie Bramlet, The Temptations, Martha and The Vandellas, Four Tops, and The O'Jays. Brad Guin has been working with The Alabama Blues Project Advanced since Spring 2010 and we are proud to have him aboard.
Source: http://www.alabamablues.org/summercamp2010recap.htm
Video: http://www.nme.com/awards/video/id/at7Yu8TEEQY/search/brad%20guin
http://www.myspace.com/rickcarterandthelolaband
http://www.myspace.com/fishergreen
BAND MEMBERS
Rick Carter- Guitar/Vocals
John Kulinich- Lead Guitar
Brandon Peeples- Bass Guitar
Leif Bonderanko- Drums
Donna Hall-Vocals
Erin Mitchell-Vocals
Lolly Lee-Vocals
Stan Foster-Vocals
Mike Estep- Vocals
Chad Fisher-Trombone
Omari Thomas-Trumpet/Saxophone
Brad Guin-Saxophones/Flute
http://www.theplanetweekly.com/index.php?option=com_content&task=view&id=1704&Itemid=48