G
Golden, Monroe
Monroe Golden is a freelance composer from rural Alabama. His compositions often explore alternate tuning systems and the implications of those systems for other musical structures, and have been broadcast on adventurous radio and performed in concerts throughout the U.S., Canada, and Europe. Critics have called his music "delightfully disorienting" and "lovely, sumptuous, yet arcane." Awards include the 2006 Alabama Music Teachers Association/MTNA Commissioning Award, an Individual Artist Fellowship from the Alabama State Council on the Arts, and commissions from several solo performers and groups. A CD of his works entitled A Still Subtler Spirit is available from Living Artist Recordings, amazon.com, and CD Baby.

Beyond his artistry, Golden has actively encouraged and promoted the innovative arts in his resident community. He is a founding member of the Birmingham Art Music Alliance, serving as President from 2003-2005. He has also headed theBirmingham Art Association and the ARTBURST Performance Series at the Unitarian Universalist Church of Birmingham. He produced the 1998 Birmingham International Improvisation Festival, and founded the New Arts Stage ofBirmingham's City Stages, directing the stage from 1999-2004.

Golden graduated cum laude from the University of Montevallo and earned a doctorate from the University of Illinois. His composition teachers include James A. Jensen, Ed Robertson, Ben Johnston, Sever Tipei, Aurel Stroé, and Herbert Brün.
Website http://monroegolden.com/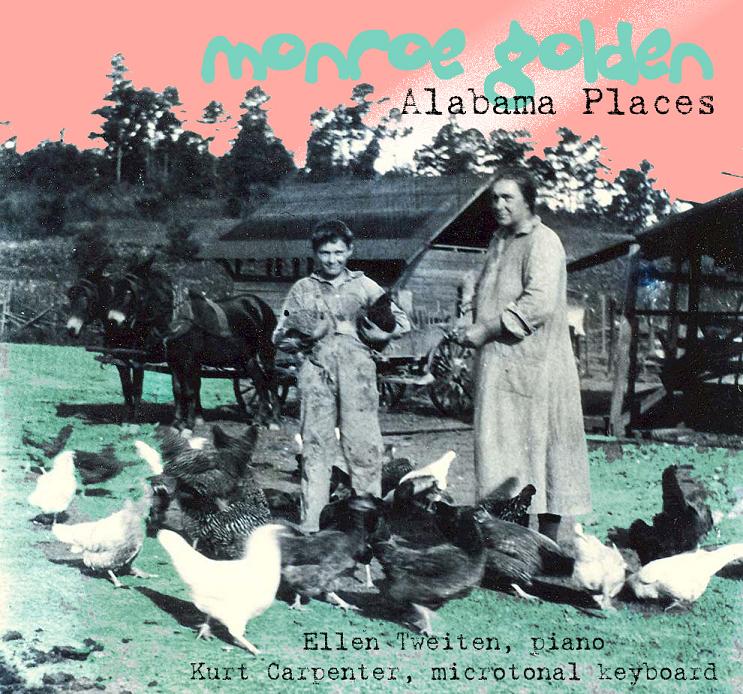 Listen: http://www.cdbaby.com/cd/mgolden
Listen: http://us.mg1.mail.yahoo.com/dc/launch?.gx=0&.rand=atuauoo61eg39
More info: https://www.wbhm.org/Tapestry/bands/MonroeGolden.html
http://www.sequenza21.com/cdreviews/2010/06/monroe-golden/
http://www.sonoloco.com/rev/innova/680/golden.html