H
Hall, Jack
Jack Hall
Born: Mar. 25, 1947 Birmingham, AL
Jack teamed with brother Jimmy to form the soulful southern rock group Wet Willie during the 1970's.  He co-penned the groups signature tune "Keep On Smilin'", a #10 hit in 1974.
Source: Alabama Music Hall of Fame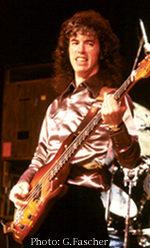 Jack Hall, along with his brother Jimmy, founded Wet Willie, one of the hardest working Southern Rock bands in the 70's in their hometown of Mobile, AL, before moving to Macon as part of the Capricorn family. As a songwriter, vocalist and bass player, Jack was the backbone of one of the stoutest rhythm sections and vocal groups in the genre. Their hits included "Keep On Smilin'", "Weekend" and "Streetcorner Serenade". He also was the bassist on Jimmy's solo album, "Touch You," and toured the US and abroad with Terri ("Somebody's Knockin'") Gibbs.
Source: http://www.myspace.com/jackhall
More info: http://www.jammates.com/download/Jammates_News_032207.pdf
http://www.myspace.com/wetwillieband
http://www.ktb.net/~insync/wwreun.html
www.RenegadesOfSouthernRock.com