J
Johnson, Birch
Birch Johnson
Born: Tuscaloosa, AL
Jazz, R&B Trombone
Source: Alabama Music Hall of Fame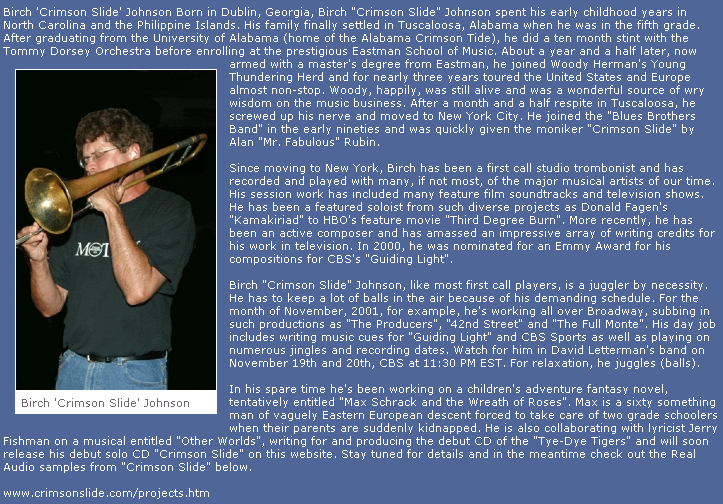 Source: http://www.trombone-usa.com/johnson_birch_bio.htm
Birch "Crimson Slide" Johnson is an American trombonist. He is a first call studio trombonist, Emmy nominated composer, producer and songwriter based in New York City. For 10 years, Birch was a member of the "Blues Brothers Band" and appeared, as an actor, in the movie "Blues Brothers 2000". He graduated from the University of Alabama, receiving the Bachelor of Music degree. At Alabama, he studied with noted jazz educator, Steve Sample, Sr. He subsequently attended Eastman School of Music, receiving the Master of Music degree, majoring in jazz performance.
Source: http://en.wikipedia.org/wiki/Birch_Johnson
Birch "Crimson Slide" Johnson, like most first call players, is a juggler by necessity. He has to keep a lot of balls in the air because of his demanding schedule. For the month of November, 2001, for example, he's working all over Broadway, subbing in such productions as "The Producers", "42nd Street" and "The Full Monte". His day job includes writing music cues for "Guiding Light" and CBS Sports as well as playing on numerous jingles and recording dates. Watch for him in David Letterman's band on November 19th and 20th, CBS at 11:30 PM EST. For relaxation, he juggles (balls).
In his spare time he's been working on a children's adventure fantasy novel, tentatively entitled "Max Schrack and the Wreath of Roses". Max is a sixty something man of vaguely Eastern European descent forced to take care of two grade schoolers when their parents are suddenly kidnapped. He is also collaborating with lyricist Jerry Fishman on a musical entitled "Other Worlds", writing for and producing the debut CD of the "Tye-Dye Tigers" and will soon release his debut solo CD "Crimson Slide" on this website.
Source: http://www.crimsonslide.com/projects.htm
More info: http://www.bluesbrotherscentral.com/profiles/birch-johnson/
Listen: http://itunes.apple.com/us/artist/the-blues-brothers/id14406835
Listen: http://www.amazon.ca/Briefcase-Full-Blues-Brothers/dp/B001CIS754