J
Jones, Rev. Pastor Shawn M. Sr.
Rev. Pastor Shawn M. Jones Sr. is pastor of the Springhill Baptist Church in Tuskegee, AL. Shawn is the main lead vocal for The Alabama Spirituals.

Source:  http://www.algospelquartets.com/
Hey Peoples! Jones here. I started a church called New Thing Empowerment Church in Auburn, AL that's simply off the chain! Whenever you're in the area, u should come by and holla at yo boy. I'm married with 3 crazy kidz;). I'm the lead singer of one of the hottest quartet groups in the country named The Alabama Spirituals "Worthy Is He". I am a son of Bishop Sherman L. Young and a council member of "HIAM", (this part is 4 the preach brothers;). I like traveling, and eating GOOD food. Hit me up sometimes. Sholam..
Source: http://www.myspace.com/drsmjones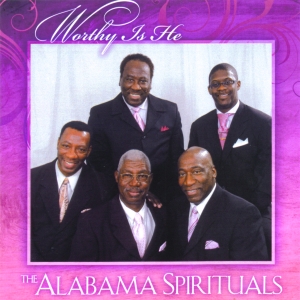 The Alabama Spirituals have been singing God's praises for over 25+ years. God gave these men a vision and it soon became a Reality. God blessed the group to travel across the nation to minister God's word through song in many major events. For a few years the group was named The Five Gospel Singers of Alabama. They changed the name and the blessing started rolling! The Alabama Spirituals move on to win the Traditional Gospel Group Award from the American Gospel Music Awards in 2003 that's held in Staten Island, NY and In 2007 was nominated for the Traditional Group Album of the Year from the GMA DOVE AWARDS in Nashville Tennessee. This group consists of the Rev. Dr.Eddie L. Hunter, Pastor Shawn M. Jones, Sr., Rev.Joe Hunter, Stan Hunter and Qunnion Burns. The Alabama spirituals have been very successful with their CD release on the Lamon Record Label and the Highland Record Label. The Alabama Spirituals have performed all over the country as well as over seas with many of the nations top artist. GOD'S will is what we're after! For more information on this group, contact Stan Hunter at 256-234-3648 ..
Source: http://www.myspace.com/alabamaspirituals
More info: http://www.glorylandgospel.com/CDReviews/2009/alabamaspirituals.html
Listen: http://itunes.apple.com/us/artist/the-alabama-spirituals/id184193701
Listen: http://www.amazon.com/s/ref=ntt_srch_drd_B000RHPJ66?ie=UTF8&search-type=ss&index=digital-music&field-keywords=The%20Alabama%20Spirituals