K
Kozmic Mama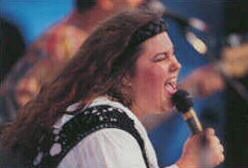 Kozmic Mama performs a variety of original and cover songs ranging from "Classic" Soul, Motown, Blues and Rock. Influences include, Aretha Franklin, Janis Joplin, James Brown, Jackson 5, Sam & Dave, Staple Singers, Sly & The Family, Ray Charles etc...

Kozmic Mama was formed in 1991 when Carla Russell, Matt Shook and Bobby Love came together to start a band that would soon become one of the hottest live bands in North Alabama and South Tennessee. Matt and Bobby had moved to Huntsville, Alabama from Atlanta, Georgia where they played with the rock band Fragile. Upon arriving in Huntsville, Bobby and Matt hooked up with Carla to perform soul covers and original songs. Mike Fontenot, former guitarist of "King Cotton" and Jimmy Clay, former bassist of "Cornelius Brothers and Sister Rose", "Baker and Myers" joined the group, completing the kozmic line-up.

After you hear the versatile sound of KOZMIC MAMA, steeped in the Rootsy tradition of Rock, Soul, Motown and Blues, it will come as no surprise that they're one of the most popular bands to come out of North Alabama in a long time.

THE ARTISTS
CARLA RUSSELL-Lead Vocals

MATT SHOOK-Lead Vocals, Keyboard, Piano

BOBBY LOVE-Drums, Vocals

MIKE FONTENOT-Guitars, Vocals

JIMMY CLAY-Bass Guitar, Vocals
Source: http://www.kozmicmama.com/
http://WWW.MYSPACE.COM/CARLARUSSELL