M
Mitchell, Dean
Dean Mitchell
Born: Henagar, AL
Country Guitar, Vocals
Source: Alabama Music Hall of Fame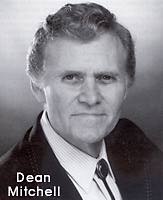 DEAN MITCHELL: Growing up on a farm in Northern Alabama, Dean Mitchell began to fall in love with music as he was influenced by the South's most enduring musical traditions, country and gospel music. Dean began singing at an early age from the Sacred harp song books at church. Tuning into WCKY radio out of Cincinnati, Ohio, he was able to listen to Jimmie Rodgers, Wayne Rainey, Ernest Tubb, Roy Acuff and many others. Since that time Dean has recorded several albums and developed into an artist that has maintained a regional, national, and international profile through radio, television, and personal appearances.
Dean received an endorsement from one of his heros, Ernest Tubb, which led to his being accepted on the touring roster of the Alabama State Council on the Arts (the first Country artist to be listed there). He has toured the U.S. as well as England, Ireland, the British West Indies, Canada, and Romania. Dean has been a featured artist in several country and gospel music magazines. He has also appeared in a number of scholastic journals on the history of Country Music, including the Old Time Country Music magazine, published by The Center for the Study of Southern Culture at the University of Mississippi. Besides his guest appearances, Dean has also appeared in commercials, advertising his recordings on the TNN and USA Network. In 1996 Dean returned to the studio to record a collection of gospel songs he had written which reflect his sentiment on the social and moral challenges that our country faces today. Most recently Dean was inducted into the internet's Rockabilly Hall of Fame.
Whether country or gospel music, Dean Mitchell has always presented songs that were timely and well delivered. This collection of Jimmie Rodgers' music is no exception.--Jason Couch, NURI Music Group
NOTE FROM THE PRODUCER: Over the past fifty years I have been privileged to work with some of the biggest names in country, rock, r&b, gospel, and bluegrass. Time and time again I have been impressed by the impact of Jimmie Rodgers on the music industry. It would be impossible to calculate the number of artists and songwriters that Jimmie's music has influenced and continues to influence.
It had been my long time dream to produce a collection containing all of the songs ever recorded by Jimmie Rodgers. In pursuing the creation of this box set, I felt there was only one artist who could capture the very soul and essence of Jimmie's music... that being Dean Mitchell. I am amazed at Dean's ability to emulate, with such a degree of accuracy, the style of Jimmie Rodgers.
This 109 song collection is the ultimate definitive work on the musical genius of Jimmie Rodgers. I want you to kick back, listen, and enjoy this timeless music.
Listen: CD Baby | Search Results
Video: Watch Down The Road There's A Hero - Dean Mitchell With Bucky Barrett Online - VideoSurf Video Search